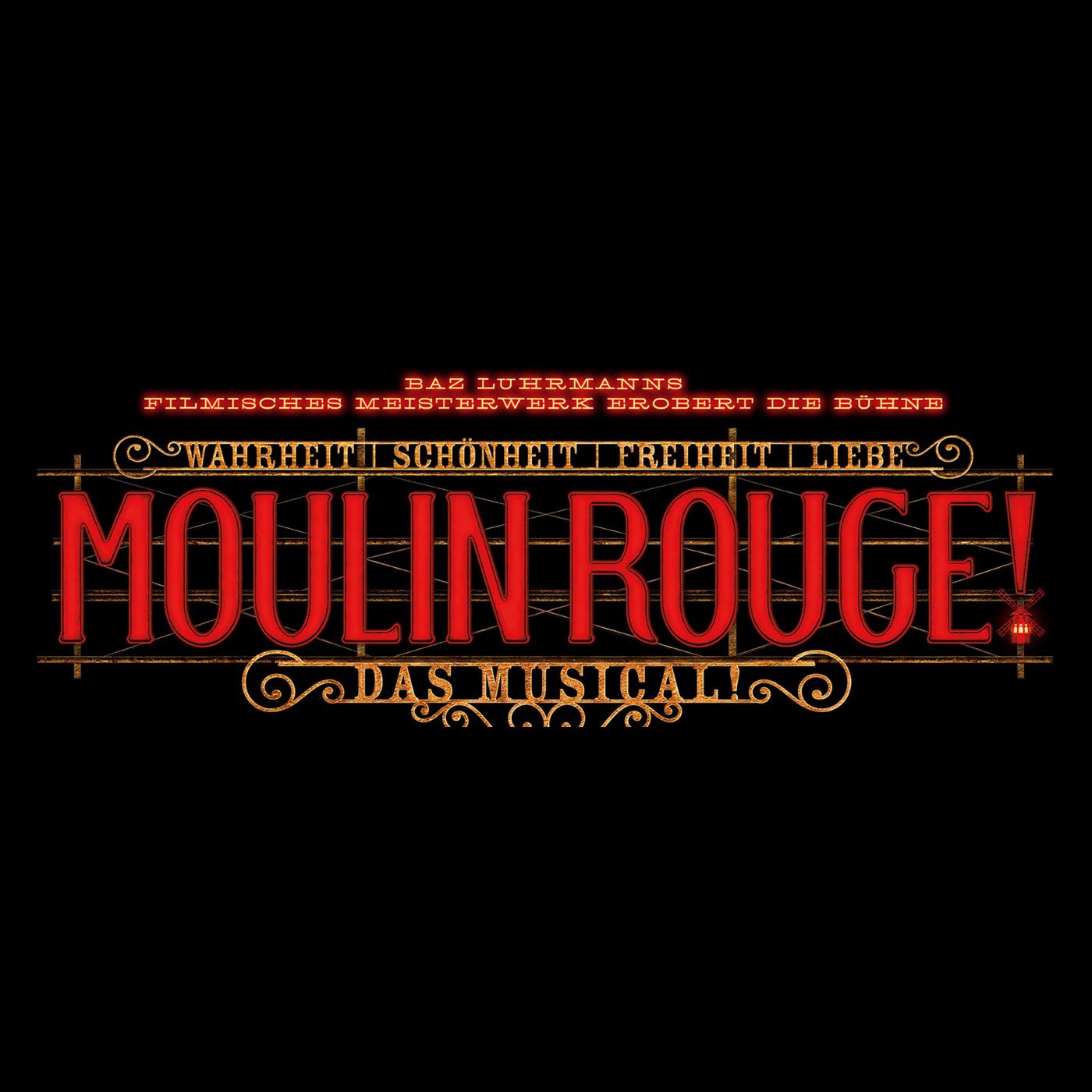 MOULIN ROUGE! – DAS MUSICAL Köln
Willkommen in Paris! Das Musical nimmt die Zuschauer mit in die farbenprächtige Welt des legendären französischen Nachtclubs mit der roten Mühle und erzählt eine berührende Liebesgeschichte.
Im Jahr 2001 begeisterte Baz Luhrmanns Film "Moulin Rouge" das internationale Publikum. Die Liebesgeschichte zwischen dem jungen Schriftsteller Christian und dem Nachtclub-Star Satine, dargestellt von Ewan McGregor und Nicole Kidman wartet mit einem fulminanten Soundtrack und opulenten Bildern auf. Das Film-Spektakel wurde mit je einem Oscar für die beste Art Direction und für das beste Kostümbild belohnt. MOULIN ROUGE! – DAS MUSICAL bringt die faszinierende Geschichte live auf die Bühne.
Ebenso opulent, romantisch und sündig wie der Film, tritt das MOULIN ROUGE! Musical an, um die Zuschauer den Bann der Musik zu ziehen. Zu hören gibt es ganze 75 Songs von 165 Komponisten – eine Zeitreise durch die Geschichte der Pop-Musik, von Offenbach bis Lady Gaga. Die Broadway-Fassung des Musicals wurde mit zehn Tony Awards zur meist ausgezeichneten Show des Jahres 2020.
Weiterlesen
Musicalreise Köln
Inklusivleistungen:
Übernachtung in einem Premium Hotel nach Wahl
Weitere Extras wie Frühstück, je nach gewähltem Hotel
Tickets für MOULIN ROUGE! – DAS MUSICAL Köln
Vorteile:
Von bis zu 47 % Preisvorteil profitieren
Über 1 Million zufriedene Reisende
Nicht verpassen: Aktuelle Angebote und Rabatte
Ticket & Hotel Angebote ansehen
Handlung von MOULIN ROUGE! - DAS MUSICAL
Moulin Rouge – so heißt das bekannte Cabaret-Theater im Pariser Viertel Montmartre, weltweit berühmt für seine Tänzerinnen, zu erkennen an der roten Mühle über dem Eingang. Dieses Cabaret-Theater wählen Baz Luhrmanns Film sowie auch das darauf basierende MOULIN ROUGE! Musical als Spielort. Hierhin verschlägt es den jungen Schriftsteller Christian im Jahr 1899. Im Nachtclub, der angeblich alle Träume wahr werden lässt, trifft er die schöne und begabte Satine, Star des Nachtclubs und Kurtisane.
Während sich zwischen Christian und Satine eine zarte Liebesgeschichte entspinnt, möchte der einflussreiche Duke von Monroth das finanziell angeschlagene Moulin Rouge übernehmen. Doch nicht nur das: Er will auch den "funkelnden Diamanten" des Nachtclubs, Satine, ganz für sich behalten. Zusammen mit Clubbesitzer Harold Zidler und den Pariser Bohemians sucht Christian nach einem Weg, um das Moulin Rouge und Satine zu retten.
Ausgezeichnet mit zehn Tony Awards
Im Juli 2019 feierte das Musical MOULIN ROUGE! am Broadway Premiere. Neben den Songs, die bereits im Film zu hören waren, wurden zahlreiche neue Nummern hinzugefügt, bei denen es sich ebenfalls um Medleys bekannter Pop-Melodien handelt. Alex Timbers führte Regie, John Logan schrieb das Buch, Justin Levine übernahm die musikalische Leitung und Sonya Tayeh entwickelte die Choreografien. Sie alle wurden bei den 74. Tony Awards im Jahr 2020 mit einer Nominierung bedacht. Insgesamt zehn der Awards konnte MOULIN ROUGE! gewinnen, darunter auch den Preis für das Beste Musical. Jetzt gibt es die Chance, die opulente Bühnenshow in Deutschland zu erleben.
Jetzt Tickets bestellen
Charaktere von MOULIN ROUGE! - DAS MUSICAL
Ein junger und etwas naiver Schriftsteller aus England und der Star eines Pariser Nachtclubs: Christian und Satine stehen im Mittelpunkt von MOULIN ROUGE! – DAS MUSICAL. Ihre Liebesgeschichte bilden den romantischen Kern der Handlung. Auch darüber hinaus lässt das Musical eine Reihe von schillernden Persönlichkeiten auftreten, ist das Moulin Rouge doch ein Ort, an dem Royals und Bohemians zusammentreffen. Brillante, aber hungernde Lebenskünstler, feurige Tangotänzer, lebenskluge Tänzerinnen, ein findiger Clubbesitzer und ein besitzergreifender Duke: MOULIN ROUGE! – DAS MUSICAL reißt seine Charaktere in einen Strudel aus Liebe, Lust und sündig guter Musik.
Christian
Christian ist junger, englischer Schriftsteller, der sich in Paris niedergelassen hat. Er freundet sich mit anderen Bohemians an, die von seinem schriftstellerischem Talent beeindruckt sind. Vor allem Musicals haben es dem jungen Mann angetan. Zu Besuch im Moulin Rouge verliebt er sich in Satine, den Star des Cabaret-Theaters.
Satine
Satine arbeitet im Moulin Rouge als Sängerin und Kurtisane. Sie ist der unbestrittene Star der Show und unter dem Beinamen "funkelnder Diamant" bekannt. Nicht nur Christian verliebt sich in die Schönheit, auch Duke of Monroth ist von Satine fasziniert. Satine jedoch entwickelt ebenfalls Gefühle für Christian.
Duke of Monroth
Der Duke of Monroth ist ein reicher und arroganter Adliger, der sich bei seinen Besuchen im Moulin Rouge von Satine persönlich unterhalten lassen möchte. Er unterstützt zunächst Christians erste Show finanziell, als er jedoch Wind von seinen Gefühlen zu Satine bekommt, entbrennt in ihm die Eifersucht.
3 Gründe für MOULIN ROUGE! - DAS MUSICAL
Berauschend, exzessiv, farbenfroh: Bereits die Filmvorlage faszinierte das Publikum mit ihrem Reigen opulenter Bilder, untermalt von anachronistisch eingesetzten, bekannten Pop-Songs. MOULIN ROUGE! – DAS MUSICAL hält an diesem Prinzip fest. Das gar schwelgerisch gestaltete Bühnenbild lässt den legendären Nachtclub im Musical-Theater zum Leben erwachen. Die zahlreichen Songs mischen abermals fröhlich die verschiedensten Stilrichtungen und Melodien mit Wiedererkennungswert. Das Ergebnis ist ein mitreißendes Erlebnis, das man so schnell nicht mehr vergessen wird. Überlegen Sie noch, ob sich ein Besuch bei MOULIN ROUGE! – DAS MUSICAL lohnt? Hier stellen wir Ihnen drei gute Gründe für das Musical vor.
Zeitreise durch die Pop-Geschichte
MOULIN ROUGE! - DAS MUSICAL lässt insgesamt 75 Songs erklingen, oft zusammengestellt zu fantastischen Medleys. Neben den aus dem Film bekannten Stücken wie "Your Name" und "Welcome to the Moulin Rouge" kommen auch einige neue Nummern auf die Bühne.
Opulentes Bühnenbild
Für MOULIN ROUGE! - DAS MUSICAL verwandelt sich der Theatersaal in den bekannten Pariser Nachtclub. Sexy Tänzerinnen schwingen ihre Beine vor dem herzförmigen Bühnenbau, das Windrad der roten Mühle dreht sich und im Hintergrund erstrahlt der Eiffelturm.
Berauschende Choreografien
Ein Musical, das in einem der berühmtesten Nachtclubs der Welt spielt, verlangt natürlich nach Choreografien, die dem Setting gerecht werden. Sonya Tayeh hat die erotischen, sinnlichen und aufregenden Tänze geschaffen, die das Bühnenerlebnis perfekt machen.
Jetzt Tickets bestellen
Das Musical in Köln
Zunächst nur am Broadway zu sehen, hält MOULIN ROUGE! - DAS MUSICAL nun in Köln Einzug und gastiert im Musical Dome. Das blaue Zeltdach des Musical-Theaters hat überregionalen Wiedererkennungswert. Für die Show GAUDI gebaut und 1996 eröffnet, sollte es sich beim Musical Dome nur um ein Provisorium handeln. Doch der Bau blieb und ab 2012 fand hier die Kölner Oper eine temporäre Heimat. Seit 2015 sind wieder Musicals im Musical Dome Köln zu sehen. Mit seiner leichtfüßig wirkenden Architektur aus Stahl und Glas bildet der Bau einen Kontrast zur historischen Kölner Innenstadt.
Musical Bewertungen
4,7 von 5 Sterne (6 Bewertungen)
---
---
Super Musical
Ich war gestern im Musical Dome in Köln und habe mir das Musical MOULIN ROUGE! angesehen. Es war einfach grandios! Das Musical ist eine Adaption des berühmten Films von Baz Luhrmann, der die tragische Liebesgeschichte zwischen dem Schriftsteller Christian und der Kurtisane Satine im Pariser Varieté Moulin Rouge erzählt. Die Musik ist eine Mischung aus bekannten Pop- und Rocksongs wie "Lady Marmalade", "Your Song" und "Come What May", die neu arrangiert und interpretiert wurden. Die Inszenierung ist spektakulär und opulent, die Kostüme sind glamourös und extravagant, und die Choreographie ist atemberaubend und sinnlich.

---
Unvergessliches Erlebnis
Ich habe vor Gestern das Musical besucht und es war einfach großartig! Die Show hat mich von der ersten Sekunde an gefesselt und ich konnte mich nicht mehr davon lösen. Die Musik, das Bühnenbild und die Kostüme waren atemberaubend und haben das Flair von Paris im 19. Jahrhundert perfekt eingefangen.

Ich kann das Musical Moulin Rouge jedem empfehlen, der ein unvergessliches Erlebnis sucht. Es ist eine perfekte Mischung aus Drama, Romantik und Musik, die einen für Stunden in eine andere Welt entführt. Ich würde das Musical jederzeit wieder besuchen und kann es kaum erwarten, es noch einmal zu erleben!

---
WOW
Wow, was für eine Show! Das Musical "Moulin Rouge" ist einfach unglaublich. Von der ersten Minute an war ich gefesselt von den atemberaubenden Tänzen, dem fantastischen Gesang und dem visuell beeindruckenden Bühnenbild.

Die Darsteller sind alle top in Form und liefern eine absolut fesselnde Leistung ab. Die Choreografie ist einfach unglaublich und die Kostüme sind der Wahnsinn. Es ist unglaublich, wie viel Energie und Leidenschaft in jeder Szene steckt.

Der Soundtrack ist eine wunderbare Mischung aus Klassikern und moderner Popmusik, die perfekt zum Stil des Musicals passt. Ich habe mich gefühlt, als wäre ich mitten in einer Party im Paris des frühen 20. Jahrhunderts.

Insgesamt war "Moulin Rouge" eine unvergessliche Erfahrung. Ich würde es jedem empfehlen, der auf der Suche nach einem unterhaltsamen und farbenfrohen Abend voller Tanzeinlagen, toller Musik und atemberaubender Darbietungen ist. Fünf Sterne!

---
Ok
Die Bühne bzw. der ganze Saal ist der Wahnsinn. Ich habe selten so eine stimmungsvolle Kulisse gesehen. Bei den Medleys wurde manchmal übertrieben. Etwas schwierig war, dass die deutschen Texte teilweise etwas erzwungen und unpassend schienen und dann zusätzlich zum Teil von nicht Muttersprachlern gesungen wurden. Da wäre etwas mehr Originalfassung zumindest bei den Liedern sicher weniger holprig gewesen. Das hat einen teilweise aus der Stimmung herausgerissen.

Wer Pop Song Medleys mag, kommt voll auf seine Kosten. Wer eher hochwertige Musicalmusik wie zum Beispiel in Les Miserables erwarteter, der ist ggf etwas enttäuscht.

---
Sensationell
Das war bisher das beste Musical, dass ich sehen durfte!
Es war eine sensationelle Show! Alles passte perfekt, bis ins kleinste Detail, die Outfits, die Songs und die gesamte Präsentation des Saals, alles war aufeinander abgestimmt.
Und die Künstler waren großartig! Hier ist mir besonders die Stimme des Hauptdarstellers aufgefallen. Sein Gesang war wie Honig in meinen Ohren, da er glockenklar war und zudem sehr gefühlvoll.
Alles in allem ein wirklich großartig! Bravo!

---
Weitere Bewertungen anzeigen
Die Bewertungen werden auf ihre Echtheit nicht überprüft.
Jetzt Tickets bestellen
Songs von MOULIN ROUGE! - DAS MUSICAL
Akt 1
10 Songs
#
TITEL
INTERPRETEN
1
Welcome to the Moulin Rouge!
Lady Marmalade/So Fresh, So Clean/Money (That's What I Want)/Let's Dance/Burning Down The House/Because We Can (Fatboy Slim)
Zidler, Nini, La Chocolat, Arabia, Baby Doll, Monroth, Christian, Toulouse-Lautrec, Santiago, and Company
2
Bohemian Ideas
The Sound of Music/I Don't Want To Wait/Every Breath You Take/Never Gonna Give You Up
Christian
3
Truth, Beauty, Freedom, Love
Royals/Children of the Revolution/We Are Young
Christian, Toulouse-Lautrec, Santiago, and Company
4
he Sparkling Diamond
Diamonds Are Forever/Diamonds Are a Girl's Best Friend/Material Girl/Single Ladies (Put a Ring on It)/Diamonds
Satine and Company
5
Shut Up and Raise Your Glass
Shut Up And Dance/Raise Your Glass/I Wanna Dance with Somebody (Who Loves Me)
Satine, Christian, Toulouse, Santiago, and Company "Firework" – Satine
6
Your Song
Christian, Satine
7
So Exciting!
Milord/La Vie en rose/Habanera (L'amour est un oiseau rebelle)/Galop Infernal
Zidler, Toulouse-Lautrec, Christian, Santiago, Satine, and Monroth
8
Sympathy For The Duke
Sympathy For The Devil/You Can't Always Get What You Want/Gimme Shelter
Monroth, Satine, and Company
9
Nature Boy
Toulouse-Lautrec and Christian
10
Elephant Love Medley
All You Need is Love/Just One Night/Pride (In the Name of Love)/Can't Help Falling In Love/Don't Speak/I Love You Always Forever/It Ain't Me Babe/Love Hurts/Love is a Battlefield/Play the Game/Such Great Heights/Torn/Take On Me/Fidelity/What's Love Got To Do with It/Everlasting Love/Up Where We Belong/Heroes/Your Song/I Will Always Love You
Christian, Satine, and Company
Akt 2
9 Songs
#
TITEL
INTERPRETEN
1
Backstage Romance
Bad Romance/Tainted Love/Seven Nation Army/Toxic/Sweet Dreams (Are Made of This)
Santiago, Nini, and Company
2
Come What May
Christian, Satine
3
Only Girl In A Material World
Only Girl (In the World)/Diamonds Are a Girl's Best Friend/Material Girl
Monroth, Satine, and Company
4
Chandelier
Zidler, Christian, Santiago, Toulouse-Lautrec, La Chocolat, Arabia, Baby Doll, and Company
5
El Tango de Roxanne
Roxanne/es:Tanguera
Christian, Company
6
Crazy Rolling
Crazy/Rolling in the Deep
Christian, Satine, and Company
7
Your Song (Reprise)
Come What May/Your Song/Heroes
Christian, Satine, and Company
8
Come What May (Reprise)
Christian and Company
9
More More More!
Lady Marmalade/Hey Ya!/Because We Can (Fatboy Slim)/Minnie the Moocher/Bad Romance/What's Love Got to Do with It/Don't You Want Me/Crazy/Galop Infernal
Zidler and Company
Fragen und Antworten zum Musical
Wie lange dauert das Musical?

Inklusive Pause hat MOULIN ROUGE! – DAS MUSICAL eine Spielzeit von etwa 2,5 Stunden.
Gibt es eine Pause?

Ja, zwischen dem ersten und zweiten Akt gibt es eine Pause.
In welcher Sprache wird das Musical aufgeführt?

MOULIN ROUGE! – DAS MUSICAL wird überwiegend in deutscher Sprache aufgeführt. Lediglich einige Songs kommen im englischen Original auf die Bühne.
Eignet sich MOULIN ROUGE! - DAS MUSICAL auch für Kinder?

Wir empfehlen einen Besuch ab 12 Jahren.